Our team, like Bitcoin, is global and decentralized.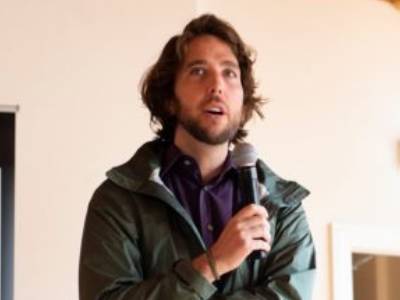 John Dennehy
is a writer and activist. Born in New York he often works at the UN and otherwise lives abroad working as a journalist. He is a best-selling author and has written about Bitcoin in Latin America for places such as the Guardian, Al-Jazeera, and the BBC. He is obsessed with decentralization and self-sovereignty. In a world at the crossroads, he sees Bitcoin as humanity's best chance to build something better. Currently based in El Salvador.
Alejandro Galán
He was born and lives in the city of San Miguel, El Salvador. His greatest passion is his work as a coffee grower and producer of avocados among other products. He was introduced to the world of Bitcoin in 2017. As a student of the private investor academy, he has extensive knowledge in investment, and firmly believes that education is what will change the course of society in his country.
Natalia Fernández
is a marketing professional, with a specialization in social communication. Natalia has been working on developing creative communication strategies since 2010. During all these years she has worked with different organizations helping them with creating communication strategies and campaigns to achieve their goals. Natalia is new to the cryptocurrency world, but she's eager to contribute in helping people in this area.
Dalia (Wielgus) Platt
Colombian, engineer, educator, life-long student, entrepreneur, and recently, HODLer. Her educational career spans over 20 years, during which she developed techniques and strategies to help students better understand complex mathematical concepts. After two years of learning about Bitcoin and decentralization, her goal is to educate as many as posible about this paradigm shift in the simplest and most accessible way.
Napoleón Osorio
is interested in the banking area and entrepreneurship, he is passionate about freedom in all its aspects. In October 2020 he discovered, at Bitcoin Beach, a new way to have economic and financial independence through cryptocurrencies. This motivates him to investigate, learn and teach about this new freedom and decentralized economic model.
Robert Malka
Has spent his career in accessibility and education, building an interpreting services company for the Deaf in the US, Canada, and the Middle East and a company providing a radical alternative to K-12 schooling. In the latter venture, he experimented with teaching financial literacy using Bitcoin. He is currently building a new learning community as a stealth startup and is a Board Member for the Bitcoin Today Coalition.
Claudia Álvarez
is a marketing professional and business entrepreneur. Since 2020 she has been creating her own brand oriented in automotive education for women. Working with automotive brands she's developed communication strategies and projects including mechanic manuals and new product línes for cars. She's learning everything about Bitcoin and blockchain and she's excited to help in the marketing and communication area of MFB and be an active part of this awesome team.
Dax Sosa
He's a professional music producer and ran one of El Salvador's first lightning nodes and is on a mission to spread Bitcoin adoption throughout his country. He teaches more technical classes about nodes and lightning technology.
Vriti Saraf
is an Ed-tech founder working to dismantle global silos in education. Based in NYC.